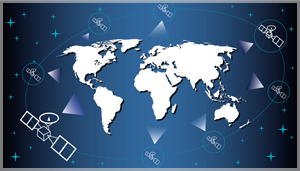 SpaceGroundAmalgam, LLC provides management and space systems consulting services focused on strategy & new market creation, business & technology architectures, change management and leadership development to customers in the space, defense, intelligence and commercial marketplaces.


Rick Sanford is the President of SpaceGroundAmalgam, LLC. Rick is a global business leader with over 25 years of market creation, business development and sales experience distinguished by double-‐digit annual revenue growth for multinational companies. He is an acknowledged thought leader with program, project and international team leadership experience in the U.S., Germany, France, United Kingdom, Australia, Singapore, and Japan. Rick is an expert at aligning technologies and process with business and mission objectives to provide maximum return on investment.
Rick started his career in the United States Air Force, studied Computer Information Systems at Strayer College and served over 12 years with Cisco Systems, Inc. where he was responsible for building the U.S. National Security business and founding the company's Space business as part of the Global Government Solutions Group. Further to his SGA responsibilities, Rick served as the CEO in commercial space venture
Odyssey Moon, Ltd.
from January of 2011 until October 2014. Rick was an Advisor to the
Hudson Fairfax Group
and serves on the Board of the
International Space University
in Strasbourg France. He is a frequent guest lecturer, keynote speaker, conference moderator and panelist and has been quoted in
numerous articles
in Trade, National and International press.

Our mission is to help customers achieve and sustain a competitive advantage in the constantly changing global marketplace. Founded with the vision of helping to engender next generation networks that merge terrestrial & space architectures, SGA, LLC is committed to helping organizations validate long term technical & business vision and then develop the plans necessary to achieve mission success.